ORCHID & APPLE STEM CELL FACE CREAM - Age Defense
Regular price

$79.00

Sale price

$69.00

Unit price

per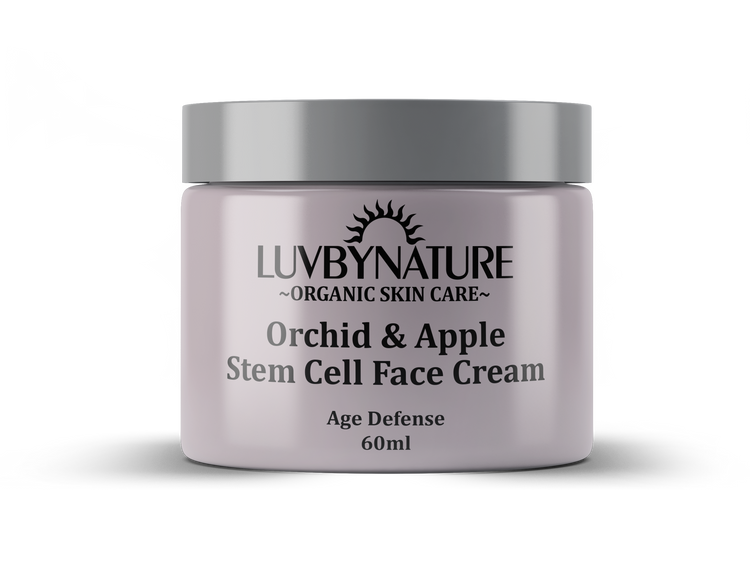 Please Allow 10-14 days to ship
All our Skin Care is handcrafted fresh in small batches.

ORCHID & APPLE STEM CELL FACE CREAM Age Defense
LuvByNature Orchid & Apple Stem Cell Cream is a unique face moisturizer, combining Orchid stem cell cultures obtained from a Japanese orchid flower, Apple stem cell cultures, herbal extracts, and antioxidants.  So,, why does this matter?

Because LuvByNature Orchid & Apple Stem Cell Cream is specifically designed to protect your skin from the most destructive force in nature ... oxidative stress.
You see, oxidative stress can leave once youthful-looking skin looking its age or even older. New research indicates that CoQ10, goji berry extract and plant stem cells from the Japanese Calanthe discolor orchid,  can help protect your delicate skin against oxidative stress. Our special skin care formulas combine all of the nutrients to reduce the appearance of fine lines, and wrinkles and deliver healthier, younger-looking skin.
Benefits include:

Protection against oxidative stress
Reduction in the appearance of fine lines and wrinkles
More balanced skin tone and moisture
Promotion of youthful skin stem cell activity
Deep skin nourishment
Faster cell turn over with the help of anti-inflammatory herbal extracts,

Encourages collagen and elastin production, reducing the appearance sagging skin 
Packed with an optimum dose of a proprietary blend of Orchid stem cells and fruit stem cells combined with the nourishment of powerful antioxidant organic herbs and a high dose of Vitamin C from Indian Goose berries and Schisandra berries, a healthy boost of all the best that nature provides to balance and restore.

Directions: After cleansing, gently smooth a small amount over face and neck using upward and outward movements.

Ingredients: Sodium Hyaluronate, CoQ10, Marine Seaweed Peptides, 
Stem Cells of Orchid & Apple,  *Sea-Lavender Peptides, *Sea Fennel Peptides, *African Shea Butter, *Moroccan Argan Oil, *Jojoba Oil, Niacinamide, Quercetin, Extracts of Goji Berry, *Green Tea, *Aloe Vera, **Arnebia Root, *Rosemary,  *Helichrysum Italicum, *Bulgarian Knotgrass, *Schisandra Fruit & *Indian Gooseberry, *French Lavender Flower Oil, Plant Essential Fatty Acids, DMAE, Extract, Sodium Lactate (from beets), Lactobacillus Ferment Filtrate, Leuconostoc/Radish Root Ferment Filtrate,
Glucononlactone. (*USDA Certified Organic Ingredient, **Wildcrafted/Unsprayed) 

VEGAN, GLUTEN FREE, GMO FREE & CRUELTY FREE

*These statements have not been evaluated by the Food & Drug Administration. This product is not intended to diagnose, treat, cure or prevent any disease.